What is ConnectCode Animator?
ConnectCode is an animation authoring software that helps you create stunning and interactive effects for your website using the Microsoft Silverlight platform. It is simple to use, fully featured, professional, and open source. You can easily create vector graphics, import pictures, create text and add animation effects in the designer tool without any programming experience. The animator will automatically generate the output for you which you can upload to liven up your website.
Download
ConnectCode uses Microsoft Silverlight technology to create cross platform animations. The aim of the software is to allow you to create a large number of automated effects and transitions in an easy and flexible manner.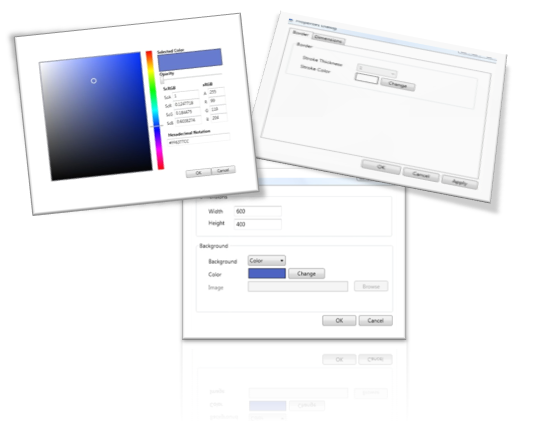 The designer tool itself is based on Microsoft .Net WPF(Windows Presentation Foundation) Framework. It also uses licensed Microsoft WPF Ribbon.
Features and Benefits
Create Stunning Effects to Liven up your Web!
Supports a large collection of Animation Effects
Extremely simple to use
Fully integrated Designer Tool
WYSIWYG (What You See Is What You Get)
Manage your animations with reusable projects
Large Clipart Library
Modern User Interface
Generate XAP files without the need for additional compilation
Grid Support
Zoom Control
Vector Graphics
Image Graphics
Full Color Support
Player Control
Generates Silverlight output automatically
Free for both Commercial and non-Commercial use
Open Source
Silverlight Animation Effects
SlideFromCurrentLocation
SlideToCurrentLocation
SlideFromLeft
SlideFromRight
SlideFromTop
SlideFromBottom
FadeIn
FadeOut
FadeToCurrentOpacity
FadeFromCurrentOpacity
ScaleFromCurrentSize
ScaleToCurrentSize
RotateToCurrentAngle
RotateFromCurrentAngle
ChangeToCurrentColor
ChangeFromCurrentColor
news & events
06 01 2021

Barcode & Label

Leading barcode software introduces cloud Barcode Add-In for Office 365 and barcode creation in WinUI. read more

01 26 2021

Barcode Software for Mac

A highly acclaimed barcode software that uses Open Type fonts to create industry compliant barcodes. read more
Read all news
newsletter