Barcode Software and Fonts for Mac OS X and macOS
ConnectCode Barcode Software uses computer fonts (Open Type) to create industry compliant barcodes for use on Mac OS X and macOS. Different types of barcodes can be created and easily embedded into a graphics or business document. When a barcode created using a font is printed, it rasters to the resolution of the printer and will not be limited to the DPI (Dots per Inch) of an image. This allows resolution independent barcodes that meet the strictest industry requirements to be created and printed.
The software uses a highly acclaimed barcode fonts engine developed by ConnectCode. This engine has over the years helped many companies clear their independent barcode verification tests and is now widely adopted by many fortune 500 companies.
Satisfied Customers of ConnectCode's Barcode Engine

Glyn Rowling (Amethyst Mailing)
The font allows for the barcode to be consistantly sized and placed regardless of what data the initial page of the document uses to generate its code.

T.M. (BrassCraft)
I have used several bar code font applications over the past 20 years and found that ConnectCode is the cleanest solution I have found.

Dr P.S. (ResMed Ltd)
The Software was very easy to install and operate.


List of supported barcodes

New GS1 Databar 14 barcode!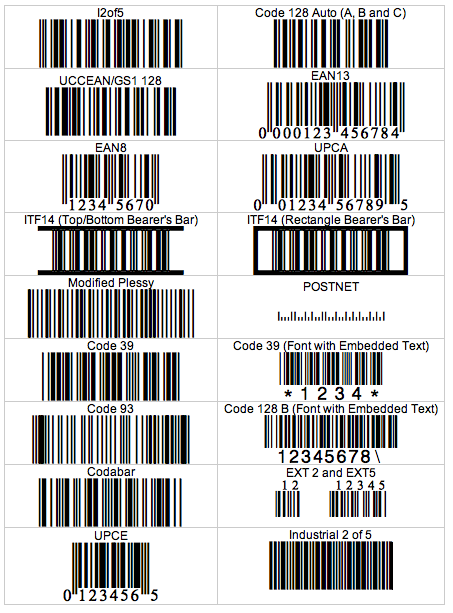 Why should I use your barcode software?
Industry Specifications Adherence - One of the most important factor for choosing a barcode font is that it adheres to industry specifications. We have developed and marketed barcode software solutions for many years. Our barcode software is trusted and highly regarded by many fortune 500 companies. We have also helped many fortune 500 companies clear their institution audits and independent barcode verifications. These are vigorous tests and require both expertise and experience. With each test, our products improve in terms of quality and stability. As a matter-of-fact, most of our customers are very happy and very satisfied with our products. They have also been with us for many years.

Simplicity - Ease of use has always been an important consideration in ConnectCode. The fonts have been designed in such a way that a user can even specify a barcode by keying in the characters directly as much as possible.

Multiple Barcode Fonts - Most barcodes come with a minimum of 7 different barcode fonts. On top of that, some barcodes like UPC and EAN come with human readable text support.


Industry-Proven Components bundled in the App
Tutorials for Getting Started
Additional Tools and Utilities available for download
The following industry-proven tools and utilities are available free for ConnectCode Barcode Software's users.
Frequently Asked Questions
Download Connectcode Barcode Lite - Free
This is a free version known as Connectcode Lite which supports the Code 39, Industrial 2 of 5 and POSTNET barcodes.

or Download a Package installer below
Mac OS X 10.6 - 10.11
5 MB of Disk Space
For macOS users please download from the Mac App Store
Download Connectcode Barcode Software
This is the professional version that supports all the commonly used linear barcodes (including all major variations) such as Code 39, UPCA, EAN13, Code128, GS1 128, UCCEAN, I2OF5, ITF14 and GS1 Databar.

or Purchase Online
Online Web Store
or Download the Trial below
Mac OS X 10.6 Snow Leopard - 10.11 El Capitan
5 MB of Disk Space
macOS Sierra or later
5 MB of Disk Space
Note : The Trial version contains limited number of barcode fonts and the generated barcodes will have horizontal lines (that do not affect scanning).
Download Windows version
news & events
05 10 2013

Barcode & Label

01 26 2012

Finance Toolkit is now Universal

07 20 2011

Finance Toolkit for iPad

04 27 2011

Barcode Software for Mac

03 25 2011

Free Barcode Software for Mac

12 15 2008

ConnectCode Animator Preview
Read all news
newsletter